NavList:
A Community Devoted to the Preservation and Practice of Celestial Navigation and Other Methods of Traditional Wayfinding
Celestial Navigation Workshops in June
From: Frank Reed
Date: 2023 May 18, 11:57 -0400


Modern Celestial Navigation? Or Historical Celestial Navigation? Name your POISON!




First the Modern Workshops:  
(Scroll down to learn about Historical Celestial Workshops)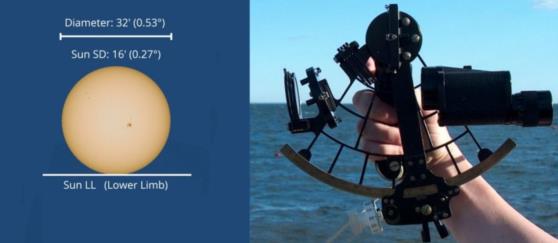 The three online workshops coming up in June constituting a complete course in celestial navigation for the 21st century. This is not your grandparents' celestial! You'll learn how to use traditional sextants in modern contexts with easy, jargon-free tools and methods. There's lots of fun science, some history, some intriguing math, and a great story to tell. Each workshop is offered with two scheduling options: for Eastern US residents they can be summed up as "daytime" or "evening". For other parts of the globe, I call them "Atlantic" and "Pacific" sessions. Atlantic sessions run from 1600-1930 UT/GMT for each day of the workshop. Pacific sessions run from 2200-0130 UT each day.
These workshops are designed, developed, and taught by me,
Frank Reed
. I'm a skilled and entertaining teacher and one of the world's leading experts on the history, science, and practice of celestial navigation. 
Repeat a class?
If you have attended any of these classes in previous seasons, you can repeat any class, as many times as you wish, for a modest "seat fee":
And Historical Celestial Navigation:
Join us at the Treworgy Planetarium at Mystic Seaport Museum in Mystic, Connecticut. 
In Celestial Navigation in the Age of Sail, we learn celestial navigation techniques that you can apply today to sail the globe based directly on the methods, logbooks, and navigational notes from the 19th century. We focus on an actual voyage of Mystic Seaport's famous museum ship, the whaleship Charles W. Morgan, sailing across the Pacific in 1897 from San Francisco to tropical islands and from there to the snowy harbor of Hakodate in northern Japan, the vessel's "home" in the northwest Pacific. It's an eventful voyage with a sick captain, two incidents where the ship was nearly wrecked, a mutiny (!), and of course whaling. We will "look over their shoulders" studying their actual navigation work from this voyage and apply it in the modern world of celestial navigation.
If you enjoy the Age of Sail workshop, then you'll love the Lunars workshop the following weekend. Like the navigators aboard the Charles W. Morgan in the middle of the 19th century, we'll learn how to use the Moon as a natural clock in the sky. Lunars were once considered the ultimate test of a navigator and a sextant, and today they are still a fascinating challenge based on fascinating history. After this workshop, you'll be a true lunarian in the long tradition of James Cook, Nathaniel Bowditch, and Joshua Slocum. As in the Age of Sail class, we'll learn from primary source history, following actual voyages in logbooks where the Moon guided New England sailors around the globe.

Have any question? Please feel free to email me, Frank@ReedNavigation.com, or phone me at 401-644-6012. I'm happy to discuss options. 
Frank Reed
Clockwork Mapping / ReedNavigation.com
Conanicut Island USA